[ad_1]

Until now the most gripping Australian sequel has probably been Mad Max 2. As anyone who has ever watched it will be aware there is a particularly scary moment when Wez, the baddie with the punk mohawk who everyone thought was history, suddenly reappears on the bonnet of the road warrior's thundering truck. For some at Twickenham the return of Eddie Jones as Australia's head coach must feel pretty similar.
Because if the Rugby Football Union thought it had seen the back of Eddie it has been proved spectacularly wrong. Like Freddie Krueger in a tracksuit he is now back to haunt English dreams. Imagine if the Wallabies end up facing England in the knock-out stages of this year's Rugby World Cup? And beating them. The RFU's decision to sack Jones last month would go down as one of the all-time great corporate howlers.
Plenty of water, in fairness, still has to flow beneath the Sydney Harbor Bridge before that happens. Jones will need to find himself a fit fly-half and a decent physio, with injury problems having decimated the Wallabies over the latter half of last year. There is no guarantee Australia are suddenly going to waltz to the 2023 title just because they have ditched the likeable, understated Dave Rennie.
But that kookaburra cackle you can hear is Australians already relishing the entertainment value of it all. Jones does not officially take charge until 29 January but already he is back inside English heads. He knows Steve Borthwick's players inside out and rapid response transformations are his specialty. Think Red Adair in an Akubra hat with a sharper sense of humor.
If nothing else the news has properly shaken up world rugby, more so even than Warren Gatland's prodigal return to Wales. Australia and Wales are in the same World Cup pool, with one of them likely to face England in the last eight. If a genuine crackle of expectancy did not already surround the quarter-final weekend in Marseille it does now.
It also begs several broader questions. By letting Jones go without requiring him to serve any kind of gardening leave, the RFU has effectively handed over seven years of IP to one of its closest rivals and given them the inside track on their preparation secrets. History is literate with examples – New Zealand in 2003, South Africa in 2015, New Zealand again in 2019 – of Jones-coached sides lying in wait for supposedly better sides and, after months of intense planning, expertly springing the trap.
Bill Sweeney, the RFU's chief executive, has previously declared himself relaxed at the prospect of Jones joining one of England's major rivals. How mellow he will be feeling if Australia are suddenly transformed while England take time to adjust to life under Steve Borthwick and finish down the Six Nations batting order again could yet be another matter.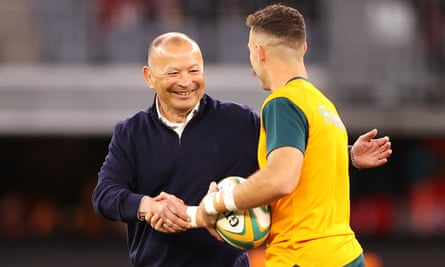 Because Jones, without question, will be on a mission to prove a lot of people wrong. For all his impressive World Cup CV – reaching the final with Australia in 2003, helping South Africa triumph as a consultant in 2007 – he has never guided a team to global glory as a head coach. When I last spoke to him last month he sounded slightly wearier and more philosophical than usual but the old swagger will soon return if the Wallabies can catch a few promising early breaks.
There is also a sense of a square peg finally back in a square hole. With England there was often a sense of Jones wrestling with slightly unfamiliar cultural factors – English reserve, the class system, public school attitudes, the less easily controlled media. Perhaps the happiest we saw him was back in Australia on tour last summer, sitting contentedly in his old stamping ground in Coogee, the master of all he surveyed. He will instinctively know which green and gold buttons to press, which is exactly why a gleeful Rugby Australia has hired him.
Yes, it all ended messily back in England with the Twickenham crowd booing and England suffering a chastening defeat to the Springboks. Yes, France and Ireland are the current favorites to lift the Webb Ellis Cup in October. But, as the past 24 hours have once again underlined, things can change very swiftly in international rugby union.
Suddenly Jones is back on fury road, not just looming large across England's windshield but also set to lock horns with the British & Irish Lions who are due to tour Australia in 2025. In a ground-breaking development he is also assuming overall charge of the Wallaroos, Australia's women's side, opening up another fascinating front with the potential to irritate his former employees. There are less persistent outback flies than a motivated Jones when he has a specific goal to aim at.
So pick up your popcorn and hold on tight. It is unlikely to be a boring ride. In many ways Jones and Australia are in precisely the position where they are traditionally most dangerous. Slight underdogs, a bit of mongrel required, a few quiet scores to settle. As far as Twickenham is concerned, Jones may be out of sight but no longer is he out of mind. That boomerang the RFU threw away before Christmas is in danger of coming back to whack them on the back of the head.
[ad_2]

Source link