[ad_1]


LAST UPDATE
|
4 hours ago
MUNSTER WILL BE hoping they won't need anything nearly as dramatic this Saturday night in Thomond Park, but the memories of Northampton's last visit to the Limerick stadium live on.
On that night in November 2011, Munster were trailing 21-20 as they fed the ball into an attacking scrum with just two minutes of the game remaining.
A stunning 40 phases of Munster possession and five-and-a-half minutes later, Ronan O'Gara smashed over the winning drop-goal from over 40 meters out.
Scrum-half Tomás O'Leary was buried at the bottom of the ruck and so the man to pass the ball to O'Gara was none other than back row Denis Leamy, who now works as Munster's defense coach.
"I remember coming off the bench and Shaun Payne saying to me, 'Be disciplined,'" said Leamy yesterday.
"I nearly had a conniption on the side of the pitch. I was like, 'Just leave me alone, I want to come on and make an impact! Don't be talking to me about my discipline!'
"Then I come on the pitch and I've a row with Paulie [O'Connell] after about two minutes because I'm standing in the wrong place for a lineout and that really energized me.
"I carried the ball about 10 times in five minutes and I ended up at the end of it. I could barely walk, I was in the ruck… it just happened to be me.
"In the corner of my eye, I caught that ROG was back, I flung a 'Hail Mary' out, it landed on his right side, he popped it over.
"It was amazing how we controlled the ball for 40 phases. I don't know but there seemed to be that belief in that team.

Vic Mackey / Youtube
"A week later we went to Castres and did something similar. That was a special night and that was a really good Northampton team.
"They'd won a couple of Premierships, had been beaten in a European Cup final. They were really good, but we found a way that night. One of the great nights."
That win for Munster was one of a few battles they have had with Northampton, who beat the Irish province in the 2000 Heineken Cup final.
"That era we had about three years running where we played each other an awful lot," said Leamy.
"There was a real rivalry built up, a healthy rivalry, always unbelievably physical, tough games. You always know you were in a game, that's a fact."
The most recent meeting between the teams was a fiery affair too, with Munster coming out on top in Franklin's Gardens last month after a game that featured one particularly big brawl.
Jack O'Donoghue and Lewis Ludlum were yellow-carded as referee Pierre-Baptiste Nuchy ignored some other highly questionable carry-on during the incident and instead sin-binned the two players who were first involved.
But Leamy was proud of the Munster players showing restraint at the time.
"If you look at the actions of Jack O'Donoghue, he controlled that situation really well in terms of he got up, there's a fracas, two guys are on top of him and he gets up and jogs away," said Leamy.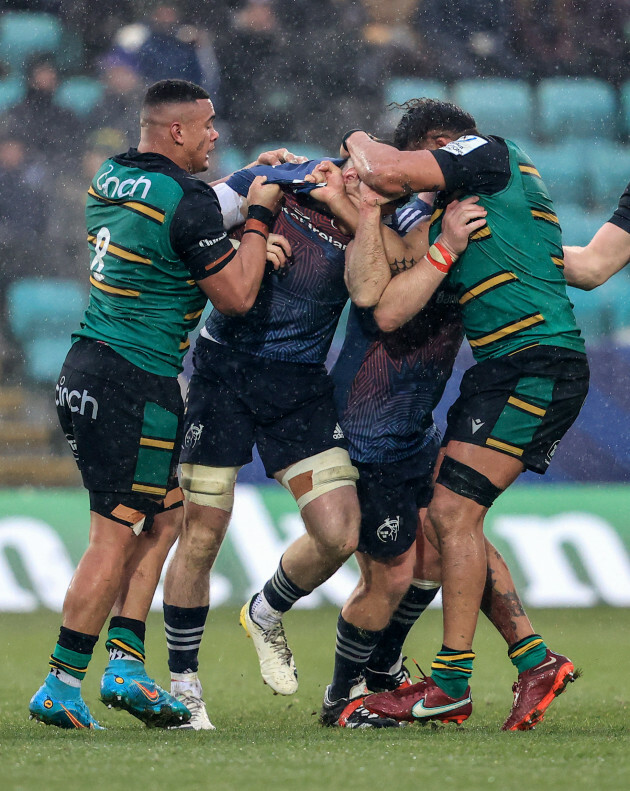 Dan Sheridan/INPHO
It was a fiery affair in Northampton.

Dan Sheridan/INPHO/INPHO

"We talk about in the mayhem, in the chaos… we drill chaos drills and we talk about the calm, the poker face in the chaos.
"I thought the boys were excellent. It happens, but how we've controlled those moments is growing all the time. There's loads to improve, gone are the days where we'd go all-in.
"Back in the day, we'd incite a row to get the crowd involved; it was almost something we'd pre-planned.
"That's not something we'd do anymore, we try to remain calm and we trust our defence, we trust our maul and we're physical in those areas of contact.
"That's where we look to show our confidence if we can."
Get instant updates on your province on The42 app. With Laya Healthcareofficial health and wellbeing partner to Leinster, Munster and Connacht Rugby.
!function(f,b,e,v,n,t,s) {if(f.fbq)return;n=f.fbq=function(){n.callMethod? n.callMethod.apply(n,arguments):n.queue.push(arguments)}; if(!f._fbq)f._fbq=n;n.push=n;n.loaded=!0;n.version='2.0'; n.queue=[];t=b.createElement(e);t.async=!0; t.src=v;s=b.getElementsByTagName(e)[0]; s.parentNode.insertBefore(t,s)}(window, document,'script', 'https://connect.facebook.net/en_US/fbevents.js');
(function () {
function consentYes() { fbq('consent', 'grant'); }
function consentNo() { fbq('consent', 'revoke'); }
function boot() {
var consent = CookieConsentRepository.fetch(); if (consent.targeting) { consentYes(); } else { consentNo(); }
fbq('init', '417668522941443'); fbq('track', 'PageView');
CookieConsentListener.onTargetingConsentChange(function(hasTargetingConsent) { if (hasTargetingConsent) { consentYes(); return; } consentNo(); }); }
boot();
})();

[ad_2]

Source link